Here are our GBPUSD forecasts for the first week of June – 01 -05.
We are shifting from daily forecasts to weekly forecasts.
This is a follow up to yesterday's communication of changes I am making on the site in order to provide you with better content.
We will have one article a week and we are adding currency pairs.
Those who are subscribed to my mailing list will continue to receive daily forecasts based on the daily time frame.
Key GBPUSD Price levels this week.
Weekly pivot – 1.22986.
Resistance levels; 1.23878, 1.24429, 1.24821, 1.25320, 1.26212, 1.26763, 1.27654.
Support levels; 1.22095, 1.21544, 1.21152, 1.20652, 1.19761, 1.19210, 1.18318
On normal trading days, price tends to stick around the first four support and resistance levels.
But, once in a while fundamentals cause spikes that drive price to the last three levels.
Need a forex broker? Try Tickmill with a $30 no deposit bonus and eToro for US citizens.
GBPUSD forecast for June 01 – 05, 2020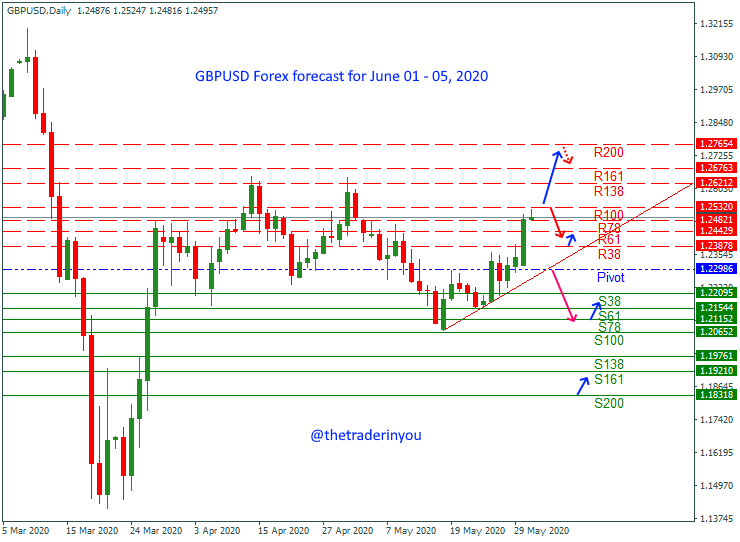 We are bullish, price just tested 1.25320 resistance level.
Swings often fail at this level.
Continued strength will see price go all the way to 1.27654
Alternative scenario
Selling strength will draw price to 1.22986 – the weekly pivot.
And most likely find buyers at 1.22095 support level.
Final remarks.
Trade according to your strategy but keep an eye on these levels.
Signup for my newsletter for price levels for daily trading.
Till next week.
Trade responsibly.
Hit the bell icon on the bottom right of this page to subscribe for notifications and follow me on Twitter @thetraderinyou to be the first to know when an article like this is published.
Need to try a new forex broker? Grab a $30 no deposit bonus from XM and Tickmill and trade risk-free. You can withdraw your profits.
#COVID-19 is real, be safe. #Trade safe and follow your rules. #forex #investment
Click To Tweet