The markets open this week to bank holidays in the UK and US.
UK banks will be closed in observance of the Spring Bank Holiday, while US banks will be closed in observance of Memorial Day.
On the fundamentals, except the Thursday US Preliminary GDP quarterly change data, we pretty much have a low impact economic calendar this week.
For the greater part of last week price rotated around the week's pivot level, this week may be different as we are in the last week of the month.
Here are our key price levels.for this week. We'll hopefully circle back at the end of the week to review them.
Weekly pivot – 1.21779
Key GBPUSD resistance levels for the week: 1.22621, 1.23141, 1.23511, 1.23982, 1.2482, 1.25344, 1.26185
Key GBPUSD support levels for the week: 1.20938, 1.20418, 1.20048, 1.19576, 1.18735, 1.18215, 1.17373
Need a forex broker? Try Tickmill with a $30 no deposit bonus and eToro for US citizens.
GBPUSD forecast for today.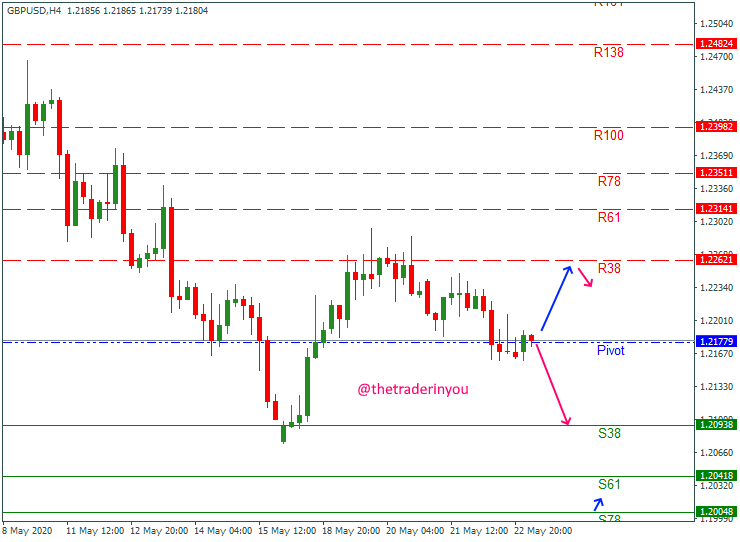 We continue with bear strength looking at 1.20938 support level.
Alternative scenario
On the upside, prices will go for our first resistance level 1.22621.
Final remarks.
Since the UK and US markets are closed today, expect low volatility.
Price may rotate around the pivot level in a 20 to 30 pips range.
Trade responsibly.
Hit the bell icon on the bottom right of this page to subscribe for notifications and follow me on Twitter @thetraderinyou to be the first to know when an article like this is published.
Need to try a new forex broker? Grab a $30 no deposit bonus from XM and Tickmill and trade risk-free. You can withdraw your profits.
#COVID-19 is real, be safe. #Trade safe and follow your rules. #forex #investment
Click To Tweet