The unrelenting weakness of the US dollar seems to transcend COVID-19.
Pundits think the US Dollar is steadily slipping away from being the reserve currency of many countries.
Making it less attractive to investors.
That in away explains why Gold and other metals are trading at all time highs.
As retail traders, we often don't know what happens behind the closed doors where politicians and policy makers pull the strings that eventually move markets.
What we have, are the charts.
In the short term, price will respect chart patterns.
All you need are the crumbs from the markets to succeed.
If you learn to trade with these patterns you will survive.
Below are the key levels to watch this week.
Need a forex broker? Try Tickmill or XM with a $30 no deposit bonus and eToro for US citizens.
Key Price levels this week.
EURUSD.
Pivot – 1.17736.
Resistance Levels: 1.18767, 1.19404, 1.19858, 1.20435.
Support Levels: 1.16705, 1.16068, 1.15615, 1.15037
GBPUSD.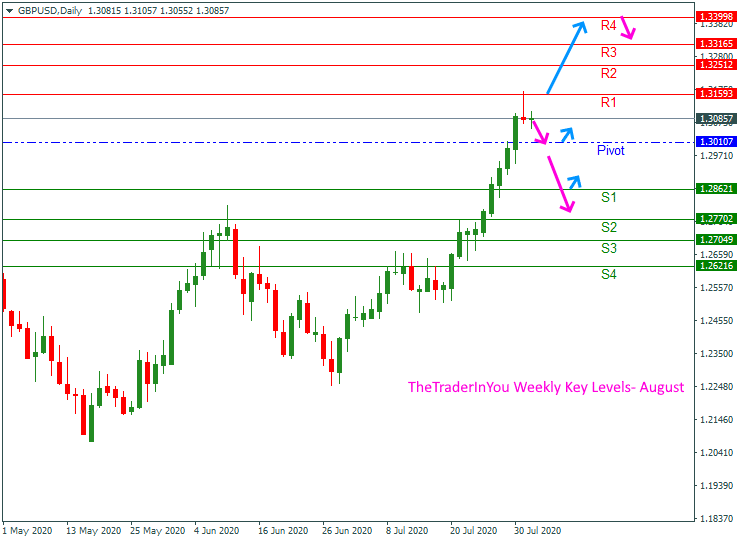 Pivot – 1.30107.
Resistance Levels: 1.31593, 1.32512, 1.33165, 1.33998.
Support levels. 1.28621, 1.27702, 1.27049, 1.26216
EURJPY.
Pivot – 124.297
Resistance levels: 125.135, 125.654, 126.022, 126.492
Support levels: 123.459, 122.940, 122.572, 122.102
GOLD.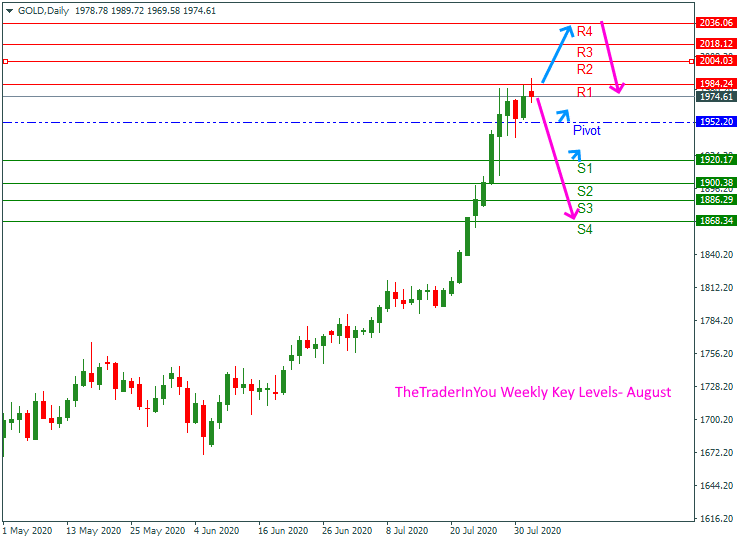 Pivot – 1952.20
Resistance levels: 1984.24, 2004.03, 2018.12, 2036.06
Support Levels: 1920.17, 1900.38, 1886.29, 1868.34
Monday, August 3
USD – CoUSD – ISM Manufacturing PMI
Tuesday, August 4
No major news events.
Wednesday, August 5
JPY – BOJ Gov Kuroda Speaks
USD – ADP Non-Farm Employment Change
Thursday, August 6
GBP – BOE Monetary Policy Report
GBP – MPC Official Bank Rate Votes
GBP – Monetary Policy Summary
GBP – Official Bank Rate
GBP – MPC Asset Purchase Facility Votes
GBP – BOE Gov Bailey Speaks
Friday, August 7
USD – Average Hourly Earnings m/m
USD – Non-Farm Employment Change
USD – Unemployment Rate
Need a forex broker? Try Tickmill or XM with a $30 no deposit bonus and eToro for US citizens.
Final remarks.
Want the key levels of any instrument you are trading on MT4?
Signup to my newsletter to receive the Pivot indicator.
With it you can get the key price levels for any instrument you are trading on any MT4 platform.
Till next week.
Hit the bell icon on the bottom right of this page to subscribe for notifications and follow me on Twitter @thetraderinyou to be the first to know when an article like this is published.
Need to try a new forex broker? Grab a $30 no deposit bonus from XM and Tickmill and trade risk-free. You can withdraw your profits.
#COVID-19 is real, be safe. #Trade safe and follow your rules. #forex #investment
Click To Tweet