Copy Trading Explained: How to Make Money from Social Trading
Copy trading or social trading is an opportunity for individuals looking for a "safer" or a more hands-off approach to trading the massive currency market or the stock market.
The forex market alone moves Six Trillion US Dollars a day – equivalent to the nominal GDP of African and South American countries combined.  That's massive. For an individual who knows how to trade, there is more than enough to make money from forex trading.
However, most individuals don't have what it takes to succeed at forex or stock trading.
In fact, over 80% of retail traders lose money, and of the 20% that make money, only a measly 0.3% is consistently profitable.
There lies the attraction of copy trading and social trading platforms, as you will soon see any individual with a phone or laptop can leverage the expertise of the 20% successful traders to make money.
With copy trading, you don't need to learn the nuances of technical analysis or master an ounce of trading psychology or have the mind to grasp the fundamental factors that move the markets—just your phone and a copy trading app.
In this copy trading for beginners' guide, I will help you understand what copy trading is. Show you how copy trading works, advise you how to choose a good trader to copy, advise how to pick the best copy trading platform, and finally answer some of the frequently asked questions on copy trading and social trading in general.
Copy trading is an automated investment method in forex or stock markets where individuals (investors) can copy trades of traders (strategy providers) on social trading platforms.
It a hands-off approach to trading in that all trades of a strategy provider or trader mirror in an investor's account:
When a trader opens a trade, a trade is opened in the investor account.
When they move a stop-loss limit or a take profit limit, the limits reflect on the investor account.
When the trader makes a profit, so does the investor.
If it is a loss, you lose.
How does copy trading work?

To understand how copy trading works, let's first look at the participants and the role they play.
We can now look at how copy trading works.
For the most part, copy trading is automated.
The manual work of copy trading for an investor is finding the right trader to follow and hit the copy button.
Everything else after that is automated, except, of course, withdrawing your profits.
Depending on the copy trading platform you pick, you can have the option to close trades in your investor account. I wouldn't advise on this though; more on it later.
That said, think of social trading or copy trading as a way for an individual investor as a passive trader to mirror or copy trades from a strategy provider found on a social trading platform. It's done in the spirit of social collaboration found with social sites like Facebook.
Advantages of Copy trading or Social Trading
Disadvantages of Copy trading or social trading
Three Important things to know about Copy Trading / Social Trading
What you should look out for as you choose a good trader to copy
All copy trading providers tag their strategy providers with metrics from risk scores to profitability.
This is what you should look for in your search for a good strategy provider to follow.
You are looking at copy trading to make money. There's no shame to look out for from a consistently profitable strategy provider first.

Once you find a set of profitable traders, look into their track record.
In particular, you want to know how long have they've traded and for how long they've been profitable.
1000%+ profits from a two months strategy provider may be misleading because you will never know if he can sustain those profits in a year or even the next three months.
Traders with one year+ experience and a verifiable track record should top your list.
Drawdown in trading shows how much an account has dropped from its highest account balance.
Stay away from traders with large drawdowns. It shouldn't matter how profitable they are.
What this shows is that the trader's system is in question, or they are indisciplined to let trades run into deep losses.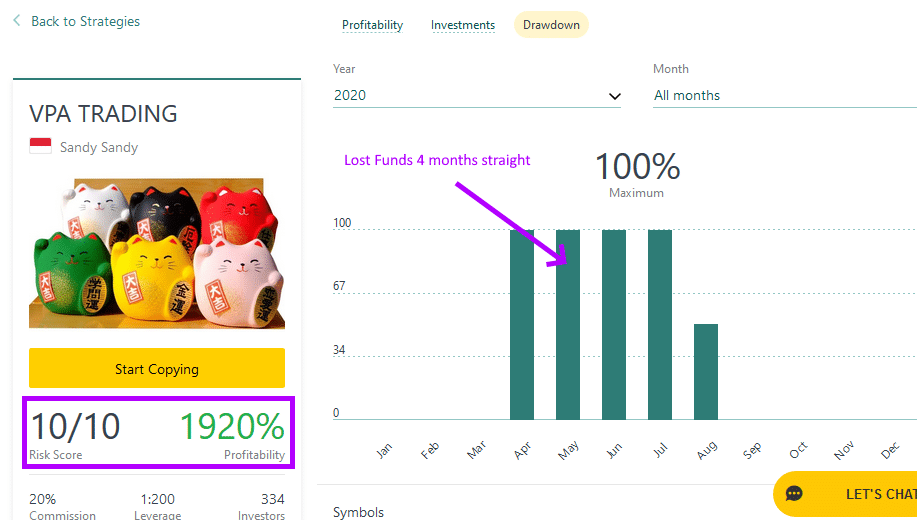 Next, look at how consistent the trader is.
Is the equity curve smooth, or it has sharp spikes?
One month he turns enormous profits,  the next, a deep dive into the negatives?
A consistent trader will have a mildly rising equity curve with acceptable troughs.
If you have a high tolerance for risk, then you can accommodate an aggressive trader.
Aggressive traders tend to trade with significant volumes, keep multiple trades running, and can hold trades for an extended period.
These traders, of course, have the highest returns, but at the risk of losing a lot more money.
If you can stomach watching a loss for 7 days in a row, then such a strategy provide isn't a good fit for you.

A trader with a substantial amount of their own money in the trading account tends to be prudent and disciplined since their money is also on the line.
A trader with with not much to lose will take unnecessary risks.
This may not be an accurate indication that a trader will be profitable in the next few months, but numbers certainly do tell.
Copy trading is social trading anyway, so why not benefit from social validation.
More investors copying a trader shows that many other investors attest to the earning potential of the trader.
While at it, look at the reviews and comments other traders leave.
Copy trading Costs or Commisions
A trader only accepts to share their strategy for a fee.
This can be a copy trading commission or a copy trading profit share.
Choose a trader with good commissions or profit share splits.

Copy trading can be profitable when you pick the right trader or guru.
Chose a trader who scores high in the different items in our list of what to look out for from a good trader to copy.
As a starting point, find trading with a low-risk score, profitable, has traded for a long while with a low drawdown and finally has a good commission.
How to choose a copy trading platform
For copy trading to make you money, you need to copy a good strategy provider and use a reliable copy trading platform.
Choosing a good copy trading platform boils down to a couple of standards to look for.
Are they regulated? Only invest in a company that is regulated.
Deposit and withdrawal methods. In addition to knowing how you can fund your account, you need to know how fast you can receive the money when you order a withdraw from the platform.
Investment Tools. The copy trading company should have the right tools for you to view and manage your investments. Look at things like the website and mobile apps or even a trading platform.
Since copy trading is a lot more social and hands-off use compy trading companies that have copy trading apps for mobile devices.
If you need to view charts and also manage trades then chose platforms that allow copy trading on mt4 and copy trading on mt5.
The pool of strategy providers or traders. The more the traders to choose from, the better.
The best Copy trading websites / copy trading platforms
If you are not a US citizen or resident, Exness is the overall best copy trading website.
It has a rich pool of traders, and it provides instant deposit and withdrawal methods.
With Exness social trading apps for both Android and iOS you can start copying the best traders with as little as $100.
Link for Exness Social Trading in China, Indonesia, South Korea
Copy trading on eToro App
eToro is the best copy trading USA platform as it accepts copy trading clients from the United States and Canada
eToro CopyPortfolio –  eToro's CopyPortfolios are long-term investment strategies built using eToro's social features and vast array of financial instruments.
CopyPortfolios bundle data and trades generated by millions of eToro investors into a smart accessible portfolio
Copy trading FXTM (ForexTime)
Because copy trading is risky, and there is a fair chance to lose your money, it is crucial to know how to mitigate your risks.
If ten traders meet your investment checklist, you can spread your capital among the top 5 or all of them.
For instance, if you intend to invest USD10,000.00; divide your capital ten times risking USD1,000 with each trader.
Over time, stick with 2-5 consistently profitable traders.
In addition to dividing your capital among traders, you could spread the risk among copy trading providers.
I have shared with you three best copy trading platforms, eToro, Exness, and FXTM. It doesn't hurt to keep your eggs in different baskets.
Answers to Frequently Asked Question on Copy Trading and Social Trading
1.

Is copy trading safe?

Yes, copy trading is very safe only if you find the right copy trading platform.

2.

Is copy trading legal or legit?

Yes, copy trading is legal though some countries restrict leveraged trading.

You can quickly know this from the copy trading providers website.

3.

Is copy trading worth it or good?

It is if you choose the right strategy provider and the right social trading platform. This article helps you to select both.

4.

Can copy trading be profitable or can you make money copy trading?

If you follow the advice in this article on how to choose the best trader to copy or the best copy trading platform, then indeed copy trading can be profitable and earn you substantial money without doing any work besides creating the account.
Copy Trading, How To Start – final thoughts
Now that you know everything about copy trading, how do you start copy trading?
Open an investor account with a copy trading provider – from the multitude of copy trading providers, I recommend these three.
Copy trading eToro – Accepts United States and Canada Citizens
Copy trading FXTM (ForexTime)
Choose a good strategy provider or trader.
Invest and withdraw your profits.
Remember, copy trading is risky, so the least you can do is diversify your investments and only invest money you are willing to lose.