This article on Liquid Web VPS hosting is a response to questions from traders and entrepreneurs alike in my 9-5 on how to start a blog or take a business/idea online or in running battles with current hosts.
I write at length about going online on Growth Hackers and other content marketing communities, but today, I bring the conversation home – TheTraderInYou.
I am glad to share with you one part of the solution – Managed hosting – specifically, Liquid Web VPS hosting.
Most traders wish to automate and host their trading strategies on the cloud. Many are keen to share their trading experiences and signals on blogs. A handful is building communities and tools. All these traders need Liquid Web VPS hosting to launch their ideas.
But since most of us are focused on technical analysis and pips, the hosting world is foreign territory, and yes, it's got its traps that frustrate the ignorant.
I trust this review of Liquid Web VPS hosting will facilitate the transition of your idea from your head to the cloud.
Disclosure: ​ I may earn a commission when you use my referral link or coupon code to purchase from some of the providers I recommend. This helps pay the bills that keep this website running. Thanks for your support.
A Trader's Review of Liquid Web – VPS hosting & cloud servers for Forex TradingWhat you will learn from this article.
hide
All right, before we dive in, we need to address one thing.
What does it take to succeed online?
Let's be real. The only reason you trade or want a blog or a website is to make money.
Even if you had a mother Theresa noble reason to help others, you still need money to foot the bills to have an online presence.
When the façade drops, we want to reach as many people as we can find online to subscribe to or buy our product or services.
And so, you need to succeed online.
To succeed online, two things need to be in place – one, the technology that powers your website or app, and two, the product or solution or content that solves a problem.
Succeeding online comes to, having the audience – people to buy your service or product and the infrastructure to host your website.
Users love a fast experience – you wouldn't stick around for a web page or app that takes a minute to load, would you?
Search engines like Google take cues from user experience to determine how high to rank your website, an obsession of an SEO agency.
To get eyeballs to your content, you need a consistent source of traffic, Google and search engines are a reliable source of traffic. But if they think your website won't give users the best experience, they will skip you for your competition.
That brings us to Liquid Web VPS hosting, a solution that will give both your audience and Google a good experience. Hence, better odds for success online.
What is a VPS?
A VPS (virtual private server) is a service hosting companies provide where one physical server is split into multiple virtual servers.
With a VPS, you have; dedicated resources, root/administrative access to the operating system.
It's like owning a dedicated server, thanks to cloud and virtualization technologies, but at a lower cost since multiple users share the physical server.
Who is Liquid Web?

Liquid Web is a 23-year-old hosting company headquartered in Lansing, the capital city of Michigan, United States
Over the years it's built a reputation as the host with The Most Helpful Humans In Hosting®
That's because they are committed to your success with 10 Global Data Centers, 500+Hosting Professionals On-site, 500,000+Sites under Management, and 45,000+ Customers in Over 150 Countries.
Liquid Web has carved a niche as a host for mission-critical applications with an array of online services; one is VPS hosting.
Liquid Web VPS Hosting Features
Liquid Web boasts of the best in everything the industry has to offer. Here's a quick rundown of select specs.
100% Network and Power Uptime SLAs – so your website or app or EAs will never go down.
SSD drives – faster, lighter, more durable than regular HDD drives
ServerSecure Advanced Security – you can't be too careful on the internet.
Integrated Firewall – keep the hackers away
DDoS Attack Protection – sudden spikes and attacks won't crash you
Gigabit Bandwidth – speeds should never restrict you.
Dedicated IP addresses – wonder why you have a unique DNA?
Cloudflare CDN – give your visitors exceptional site performance
Compared to two popular hosting companies – Hostgator and GoDaddy – Liquid Web stacks pretty high.
Liquid Web VPS Hosting pricing
Liquid Web VPS tiered pricing is competitive, starting from $39/month when billed annually.
Think that is expensive? Then you don't run a mission critical website or application.
Any serious trader or business owner will pay any amount for 100% guaranteed presence, security, and peace of mind.
Managed Liquid Web Linux VPS hosting – features and prices.
Managed Liquid Web Windows VPS hosting for forex trading – features and prices
With the Liquid Web Windows VPS, you can run Expert Advisors (EAs) on MT4, MT5, Ninja Trader, cTrader, or any other proprietary Windows-based trading platform your broker provides.
Most brokers provide free VPSs, but they could never match the performance, and guaranteed up-time necessary for High-frequency trading (HFT) used by hedge funds, banks, and other institutional traders.
Liquid Web Windows VPS hosting is the tech edge in automated trading and for mission critical Windows applications.
Managed Liquid Web Windows VPS hosting prices
Starting at $129 a month your business can secure a corner on the internet with the liquid Web Windows VPS hosting.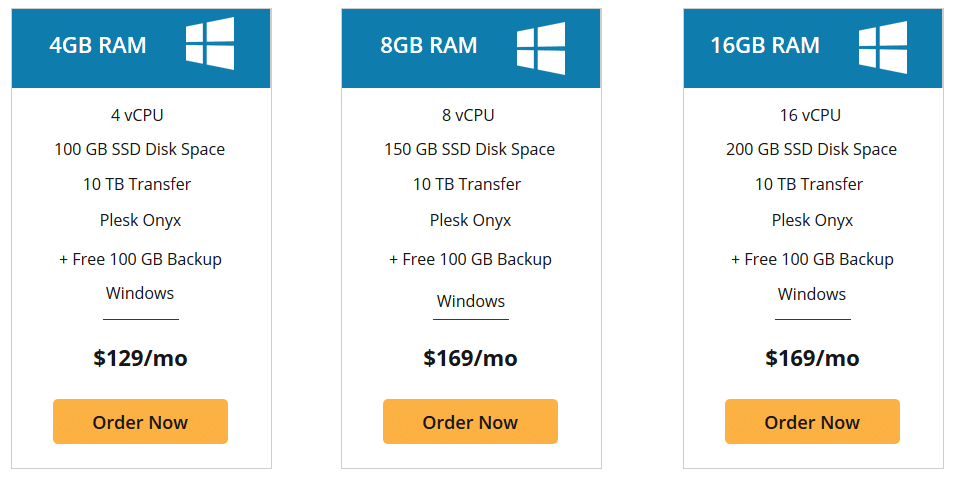 Why host with Liquid Web VPS hosting?
As you've seen, Liquid Web has features that your business idea or website needs to thrive online.
With the plethora of hosting companies, I understand why it may be hard to zero down on whom to host with.
Liquid Web is hands-down the best host for mission-critical websites.
There are many reasons to, but I will share two reasons why you should host with Liquid Web VPS hosting; Performance and Support.
1. Performance.
You should never underscore the importance of server performance. Earlier I did hint on how hosting impacts app performance and user experience.
As a trader who needs a VPS to run an EA to automate your trades, you need low latency servers that ensure trades are triggered and executed when the opportunity arises, so don't sabotage yourself with any kind of VPS for forex trading.
Cloud Spectator, a benchmarking and consulting firm focused on the Cloud computing industry in its 2020 performance analysis, found that Liquid Web's Cloud VPS Hosting platform outperforms Amazon, DigitalOcean, and Rackspace.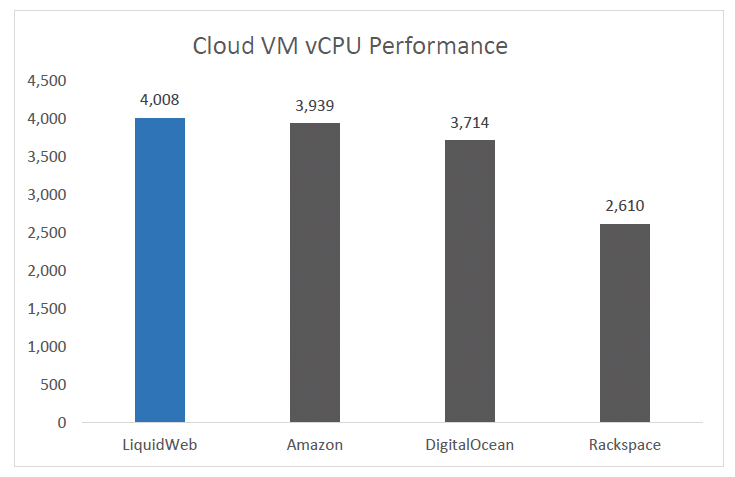 When it comes to Read/Write (I/O- Input-Output) performance, Liquid Web provides the highest disk performance irrespective of the application requirements.
In fact, it is miles ahead.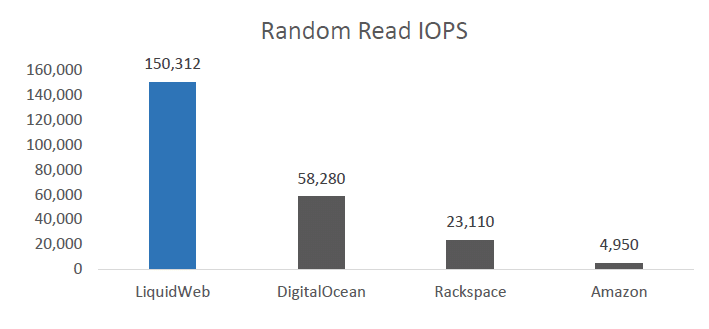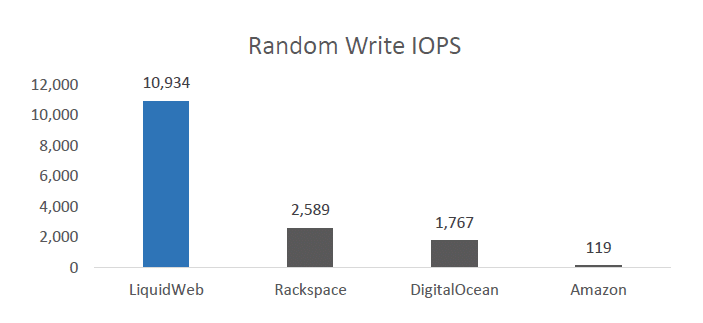 IOPs matter a lot because, at peak times, in fast-moving markets, you want trade rules triggered at the set price.
On a web server, I/O performance matters because performance will not degrade when there are many visitors on your website at the same time.
2. Support.
Aside from infrastructure, support is crucial for online success.
Whether you like it or not, time will come when things go wrong, or you want something done on your VPS beyond your knowledge.
When that happens, you want to rely on the support system of your host.
Liquid Web boasts of the best response time in the industry: 60 seconds by chat, 60 seconds by phone, and 60 minutes by tickets – earning it a 67 Net Promoter Score (NPS) according to Customer Guru. Thanks to Its Most Helpful Humans in Hosting® who are available 24/7/365
For this article, I jumped onto the live chat on the website, and yes, a helpful human responded in less than 30 seconds.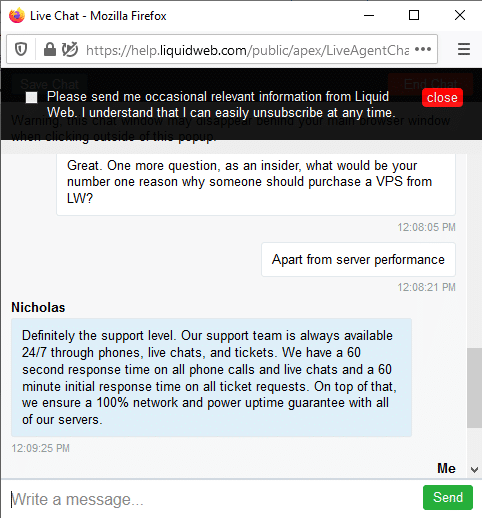 Okay, I get your thinking; most hosts allocate more support on sales chats. That is true; I know quite a few.
That's why looking at independent reviews should give you a better idea of how good Liquid Web ranks against its competition.
For unbelievers who doubt review sites, how about feedback from real customers.
Having host issues?
It could be your current host is just not good or your need a lot more resources than your host can provide.
It's time to migrate.
Liquid Web offers free migration when you move your website or application from another host.
Conclusion – Who needs VPS hosting
As I wrap up, it's important to mention VPS hosting is not for every one.
If you are just starting out, consider starting with the managed WordPress hosting or shared cloud hosting from LiquidWeb. When the demand builds up, you can easily scale to a VPS server.
Finally, want a home for your website or trading strategy? Liquid Web VPS solution gives you one.
Use the coupon SAVEBIG to save 50% off 3 Months VPS hosting.
You can go online and have the peace of mind that you will succeed because you have a hosting partner whose mission is you.
Liquid Web stacks your VPS with features backed by unparalleled human support.
Host Unlimited Sites
Run MT4, MT5 and any windows based trading software on the Windows VPS
100% Network & Power Uptime
Dedicated IP Address
Cloudflare CDN
Root Access for Linux and administrative rights with Windows VPS
RDP (Remote Desktop) access for Windows VPS.
DDoS Attack Protection
ServerSecure Advanced Security
Gigabit Transfer
Dare to pursue your dreams, sign up to great VPS hosting, feed a child – for every new order; Liquid Web will donate to No Kid Hungry.