So, you want to become a trader? Or you started trading but not sure how to structure your learning process to become a profitable trader. This article is for you.
Like everyone else, people flock to trading and gambling for the same reason – to make money.
Nonetheless, while gamblers mostly depend on luck to make money, traders make money from taking calculated risks and informed decisions.
Informed decisions are a result of continuous learning and practice throughout one's trading career.
That's why each trader and anyone who wants to become a trader needs to know the importance of education in forex trading.
At each stage of your trading career, there are things you need to learn, practice, and perfect to move to the next level. Each level, building upon the previous.
How to become a trader – Trading education for Beginner traders
If you are a new trader, fight the temptation to jump straight into live trading without the proper education, there is no difference between you and a gambler who bets with a flip of a coin.
Stay away from the markets.
Stay away until you know what you are doing.
As a beginner, your focus should be to learn everything you need to know about trading.
To become a trader, structure your learning to understand everything you need to function as a trader.
Learn the financial terms and forex trading jargon
Learn how the markets work and the different players in the market
Learn how to use the trading platforms and tools your forex broker provides – learn the different ways to open and close trades, learn how to set stop loss and take profit limits, etc.
Explore what makes a successful trader
The basics of financial instruments
Understand the concept of leverage and margin trading
Thoroughly understand risk and the pitfalls that face traders who ignore risk management.
Learn how to analyze markets to find trading opportunities – explore technical analysis and fundamental analysis
Technical analysis should draw you to understanding price action: how to read charts, candlestick and chart patterns, support and resistance, demand, and supply zones.
Where to find trading information?
You can get most of this information on the internet for free or from a paid forex trading course. Most forex brokers also offer free educational material on their websites.
The learning material is available as:
Ebooks: There's a book for every topic on financial markets and trading. These can be a PDF on an ePub.
Video lessons: If ebooks bore you, then look for video learning materials.
Webinars. A Webinar is an interactive online conference, seminar, or meeting. Most forex brokers offer webinars to traders for free.
Live offline trading classes. If you are old school or have a thing for a one-on-one classroom feel, then signup to a local trading academy or watch for broker-organized trading events in your city.
For a beginner who wants to learn trading by yourself, the ebooks, video lessons, and webinars will suffice.
Once you grasp the basics, open a demo or practice trading account with a good forex broker.
Demo accounts provide real-time market data and trading conditions with which you:
Learn to use the trading platform: Since live trading and demo trading occur on the same platform (the different thing is the server), you need to become familiar with the platform. You will learn how to place and exit trades and use technical indicators to analyze the charts.
Get to know trading conditions: Brokers have unique trading conditions like spreads, leverage, swap, commission fees, etc. In real trading, these tiny things combined have significant impacts on your trades.
Build your strategy: A strategy is like a map; it helps you navigate the markets. You may try to dump everything you learn into a trading strategy or become a strategy whore in the beginning. But over time, aim to focus on one trading system at a time, keeping it stupid simple. Keep testing and refining your strategy with the free money on a demo account. Remember, no strategy is profitable all the time. Aim for profits over several trades in several days or weeks.
With the trading basics at heart and trading strategy, it is time to learn the different trading styles and get a feel for live trading.
Trading Education for Intermediate Level Traders
At the intermediate trading level, your focus should be to grow the foundational knowledge into a strategy and learn how to become a disciplined trader.
Cement your knowledge on technical analysis
Master risk and money management
Devote to learning about trading psychology; explore how the primary trading emotions affect your trading performance.
Explore the different Trading styles and settle for a style that matches your personality.
Now you are ready to dip into live trading.
At this level, don't focus on making money; focus on sharpening your trading skills: mastering trading psychology, developing the discipline to follow your trading strategy and trading plan, money management, and discovering your trading edge.
Money is only a reward to a consistently disciplined trader.
Trading Education for Professional Level Traders
Past the novice and intermediate levels, you are ready to make money from trading consistently. That doesn't mean you are done learning.
There's still a lot of stuff to learn about you and the financial markets.
The markets and the underlying factors are in constant motion. It pays handsomely to stay on top of events and technology that may affect your positions, strategies in the short and long term.
New strategies and emerging technologies should pique your interest. There will always be something new that will improve your edge.
Study and experiment, use the new knowledge to optimize your trading strategies.
Forex Brokers With the best Free Trading Course and educational material
When comparing forex brokers, we score higher brokers with solid education resources.
Before you consider parting with thousands of dollars in overpriced trading courses or with "trading gurus," check out the free learning material your forex broker provides.
XM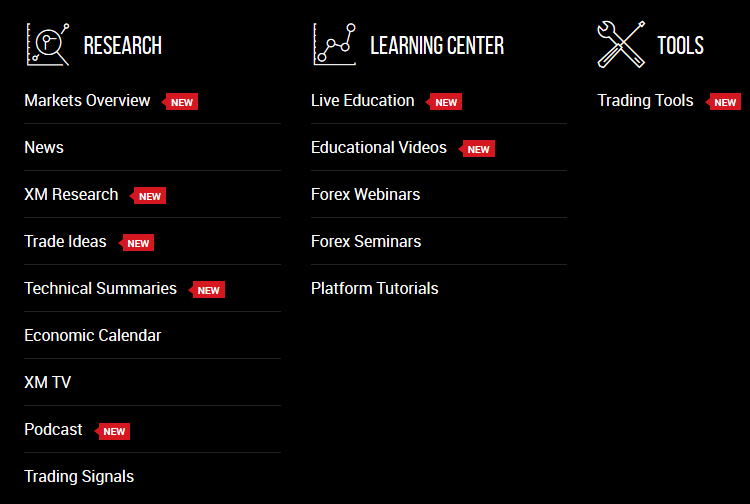 XM has a rich database of forex educational videos and platform tutorials. Add their live education, forex webinars, and offline forex seminars, and you have a broker with the best free forex trading materials.
Free forex trading courses and materials you get with XM.
Introduction to the markets
Trading essentials
Fundamental analysis
Technical analysis
Money management
Trading psychology
Trading strategies
Live Webinars
Q&As with Our Experts
Live Debates
Trading Fundamentals
Trading Sessions Analysis
How to Prepare for a Trade
Follow Real-Time Trading
Exness

Exness breaks its educational materials into three classes; essentials, development, and breakthrough.
The essentials cover the basics of trading.
Development builds on the essential skills to help traders manage risk.
Breakthrough dives into market analysis.
To access the free Exness education, log in to your account dashboard.
On the left menu, click education.
FiNMAXFX
FiNMAXFX has a rich Education Center where you find a wide range of trading materials like a glossary, collections of ebooks, video lessons, and others. This broker also hosts webinars, which are easy to rewatch.
For new traders, they can register for personal mentorship from experienced experts. Other services like trading groups, trading signals are also available. For intermediate and professional traders, FiNMAX regularly publishes articles relating to market reviews or weekly analyses.
Final thoughts
In general, I hope you understand the importance of education in this trading industry. Without it, trading is no more than a game of luck.
Get the education, whatever it costs.
If you are a new trader, choose a broker with an extensive educational course that can take you from the basic to the advanced level. After that, all you need to do is be patient, trust the process, and grow into a professional trader sooner or later.